We use a variety of up-to-date technology for the highest quality dental care for our patients. We encourage you to learn more about what we offer and how we can help. If you have any questions, please contact us by calling (573) 446-2687. We're always happy to hear from you!
CEREC CAD-CAM
CBCT 3D Imaging
Dental LASER
Digital X-Ray (Intraoral and Panoramic)
Intraoral Cameras
Electric Handpieces
Rotary Endodontics
---
CEREC CAD-CAM – CEREC is an advanced dental technology that is utilized for the restoration of decayed, cracked, or chipped teeth. CEREC can create full crowns, inlays, onlays, and veneers. The CEREC machine crafts a restoration in a matter of minutes. CEREC restorations are made of compressed porcelain. It is for this reason that they are stronger than laboratory restorations, which are layered porcelain. The most beneficial feature of receiving a CEREC restoration is that it is accomplished in one visit. In addition to the benefit of a one visit restoration, there is no uncomfortable impression material to bite on or temporary to wear.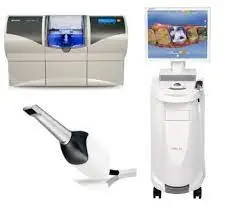 CBCT 3D IMAGING - Cone Beam Computed Tomography takes images that go beyond the traditional X-ray. CBCT provides high quality, 3-dimensional images of the soft tissues, nerve pathways, bones, and teeth to guide the development and delivery of treatment. CBCT scans provide multiple views and slices to ensure the best viewing angle, allowing us to more easily assess issues related to bone atrophy, periapical lesions, or impacted teeth as well as a wide variety of other issues.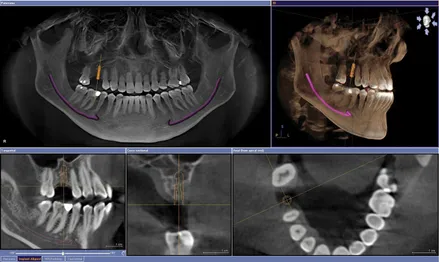 DENTAL LASER – A new and wonderful era in dentistry has begun. Our high-tech office is pleased to offer this state-of-the-art technology to our patients. LASERs are an amazing new technology for the dental office. Our LASER has the capability to perform gum surgery without bleeding or stitches, being able to eat, drink and talk right after surgery with much less discomfort. It actually sterilizes your gum tissue as it cauterizes and seals nerve endings, which promotes faster healing.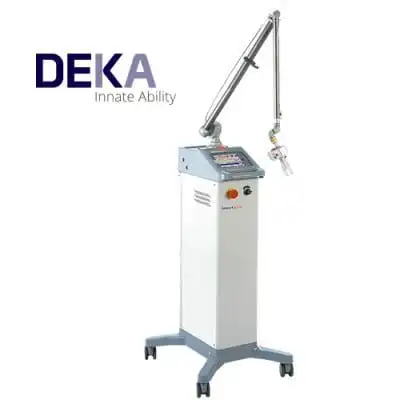 DIGITAL X-RAYS – Digital x-rays are quickly becoming adopted by a large percentage of the dental industry. A digital x-ray allows the dentist to take an image of the tooth or teeth and put it into an imaging program. Within this imaging program, there are a number of tools that will allow the dentist to take a very close look at the teeth and surrounding structures with amazing accuracy. As a benefit to the patient, the digital x-ray also provides nearly 80% less radiation than a standard x-ray. This is due to the fact that the digital version of the x-ray is much more sensitive to this radiation and has been specifically designed with the patient in mind.
INTRAORAL CAMERAS – The intraoral camera is an amazing diagnostic tool for viewing different angles in the mouth that we would not have been able to just a few years ago. The camera gives us the ability to view the entire mouth on a monitor so that we can get a closer look at any potential issues or problems that may arise. In addition, the patient will have the ability to see for themselves first hand the same images we are seeing. These digital images are also excellent for gaining procedure acceptance from insurance companies.

ELECTRIC HANDPIECES – There are basically two types of handpieces (dental drills), air-driven and electric. Electric handpieces are much stronger than air-driven due to the fact that a motor is spinning the bur as opposed to air. The motor doesn't stall-out, chatter, or have that high-pitched whine like older drills. This allows us to remove decay at a faster pace. This will cut down on the time it takes to complete a procedure.
ROTARY ENDODONTICS – Endodontics, more commonly known as root canal treatment, is a procedure where the pulp (nerves and blood vessels) inside the canals of the roots of the tooth are removed. This is often due to the fact that they are infected or irreversibly damaged. The tooth may or may not be causing pain. Rotary Endodontics utilizes an electric handpiece with specialzed files that clean and shape the root canal system so it can be disinfected and properly filled. This tool often makes the process more predictable and saves you time in the dental chair.
"Dental Health and Happiness since 1992"